Grand Condos 5′ x 8′ x 8′ high $25.00 a day
Our Grand Condo is great for the single, very active kitty or up to a family of four moderately active cats.
The Grand Condos are available in 6 motifs.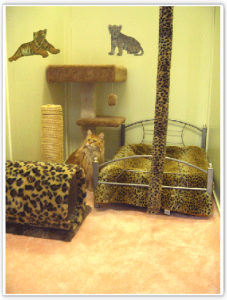 The Jungle Cat Condo (pictured right) , The Mickey Mouse Condo featured below, Sponge Bob, Sports Room, Winnie the Pooh & Mouse & Rats Room. All of our Grand Condos come with wall to wall washable carpet and are fully furnished with either real toddler bed or 4 poster pet beds, Deluxe cat climbing trees, furniture and toys. The Grand Condos also have access to either window views or TV.
All of our guests are fed in stainless steel food and water dishes that are sanitized daily. Each Condo has a special storage container to keep your kitty's food in to insure special diets are followed. For senior or recuperating cats, this is especially beneficial. We stock a variety of dry & canned cat foods (Iams, Science Diet, Purina 1, Friskies, Hill's Ideal Balance (Grain free), Cat Chow, Fancy Feasts, brands or selections may vary) and cat litter (Tidy Cat) which are all included for free.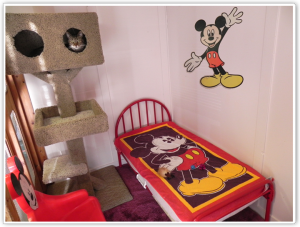 A very popular room is our Mickey Mouse Condo (pictured left) is decorated with Mickey and his friends on the walls, a wrought iron bed with a Mickey Mouse comforter, cat tree & kitty hiding tunnels. The Grand Condo can accommodate up to a family of four cats of moderate activity. (multiple cat fee is $10.00 each additional) Qualifies for Long Terms boarding discounts, see rates for details.


You May Also Like:

Posted by

admin

| Posted in Cat Boarding Options | Posted on 12-09-2010 Tags: Carpet, Cat Climbing Tree, Grand Cat Condo, Lions Tigers, Mickey Mouse, poster pet beds, Rats & Mice, Real toddler bed, Sponge Bob, Sports Room, TV View, Window View, Winny the Pooh