Budget Cubicles measures 4′ x 4′ x 3-1/2′ high  – $13.00 per day
Our Budget Cubicle is available for single cats and are excluded from all discounts and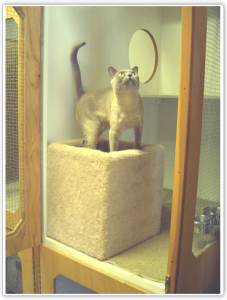 specials. The Cubical is best for very small cats or kittens. We recommend the Cubicle for only short stays. Not to exceed one week.
The Cubicle comes furnished with a hiding tunnel & balcony. All of our guests are fed in stainless steel food and water dishes that are sanitized daily. Each Cubical has a special storage container to keep your kitty's food in to insure special diets are followed. For senior or recuperating cats, this is especially beneficial. However, if your kitty is unable to jump or step up easily the cubical is not recommended. This room does require cats to go from side to side to reach their litter box and food/water.  We stock a variety of dry & canned cat foods (Iams, Science Diet, Purina 1, Friskies, Hills Ideal Balance (Grain Free),Cat Chow, Fancy Feasts, brands or selections may vary) and cat litter (Tidy Cat) which are all included for free. You may also bring your own food.
Due to the size limitations of the Cubicles, upon request we will be glad to let your kitty enjoy Our Playroom for up to an hour a day. Inside the playroom your kitty will have various trees and furniture to play, stretch and relax on while enjoying a window view. (see below) Unfortunately during extremely busy times such as Holidays we do rent out the playroom making it unavailable for our guests in the cubicals. Extra play time is spent with them inside of their cubical when this occurs.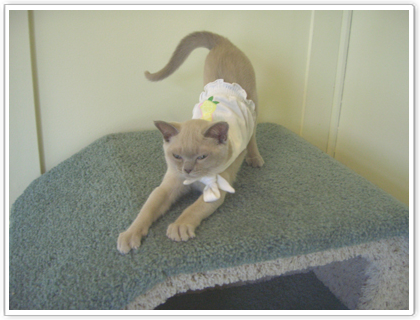 You May Also Like:

Posted by

admin

| Posted in Cat Boarding Options | Posted on 12-09-2010 Tags: budget, cage boarding, double cubical, hiding tunnels, low cost, play room, rugs, short term