Luxury Suites measure 8′ x 8′ x 8′ high – $28.00 per day
Our Luxury Suite is available in two motifs.
One of our Luxury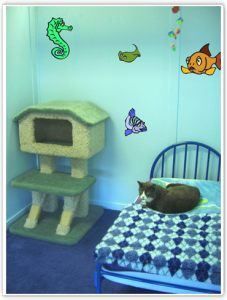 Suites features a Ocean Fish motif (pictured right). The entire suite is decorated with colorful tropical fish of various varieties. Both Luxury Suites comes furnished with a real toddler bed just the perfect size for your kitty, also come fully furnished with snuggle beds, wall to wall washable carpeting and a deluxe kitty climbing tree with tunnels for your kitty to climb and hide inside. The Luxury Suite is strongly recommended for the very active or pampered cats in your home.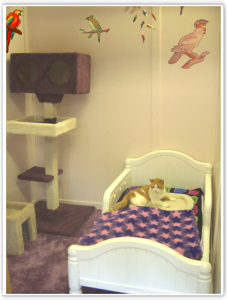 Our second Luxury Suite features a Exotic Bird motif (pictured left) The entire suite decorated with colorful exotic birds of various varieties. All of our guests are fed in stainless steel food and water dishes that are sanitized daily. Each Suite has a special storage container to keep your kitty's food in to insure special diets are followed. For senior or recuperating cats, this is especially beneficial. We stock a variety of dry & canned cat foods (Iams, Science Diet, Purina 1, Friskies, Hill's Ideal Balance (Grain Free), Cat Chow, Fancy Feasts, brands or selections may vary) and cat litter (Tidy Cat ) which are all included for free.

The Luxury Suite can accommodate up to a family of five moderate to high activity cats. (multiple cat fee is $10.00 each additional) Qualifies for Long Terms boarding discounts, see rates for details.


You May Also Like:

Posted by

admin

| Posted in Cat Boarding Options | Posted on 12-09-2010 Tags: Carpet, Cat Climbing Tree, Luxury Cat Suite, Ocean Fish, Real Beds, Tropical Birds, Window View