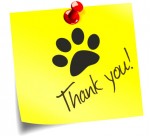 Here is a small sampling of  Thank You Notes, Cards, Letters and Emails we have received throughout the years from our clients, who we have had the pleasure of caring for their precious kitties.
Click on a few to expand and read for yourself. Looking for additional information like reviews  or testimonials check out our ratings on Angie's List!
______________________________________
Sent: Friday, December 15, 2006 5:46 PM
Subject: Great Care Thanks!
Hi Lisa,
Thanks for the Extra care you provided Elvis, he has never boarded before so I appreciate the extra time and attention. He seemed so comfortable when we picked him up. Came right home and it was like he never left.
Thanks Again!
Jill C.
______________________________________
Sent: Tuesday, July 22, 2008 7:11:21 PM
Subject: Thanks for Breaking SOPHIE out of Kitty Jail!
Dear Lisa Thanks so much for squeezing my Sophie in last week. Once my sister pointed your place out online, I could no longer in good conscience throw my Sophie in a cage at the vets office. (kitty Jail) I never knew places like yours existed and I am so happy I found you. She came home so happy and with no smell. She usually smells like the pet hospital. And your place was $5.00 a day cheaper for a way bigger space! I will never take my Sophie to the vet for boarding again, to the vet for health care, to Kitty Cat Condos for vacations! Thanks, JoAnne and Sophie
_____________________________________
Sent: Wednesday, December 2, 2009 5:48 PM
Subject: Thanks Again!
Hi Lisa,
Thanks for taking such good care of Willy, and you were right and I thank you for the suggestion. He does have hyperthyroid and is now on medication. Thank you so much for alerting me, I knew things were different but I thought it was just his age. He has already put on ½ lb and has stopped begging so much for extra food the vet says he is responding well to the medication. Thanks and we will be bringing him back this Spring.
Lenore Y.